Financial Report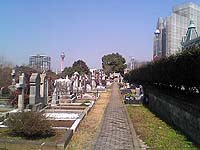 The Yokohama Foreign General Cemetery Foundation has managed this cemetery. Yokohama Foreign General Cemetery is not under the jurisdiction of anylocal or any single government.
Refer :"Memorandum for the Foreign Settlement at Yokohama in 1864"
Organizations, friends, people who sincerely wish to preserve the culture of this very important Historic cemetery and relatives of those buried here have made contributions, but most of expenses are covered mainly by donations from the Open House.

Statement of Receipts and Disbursements fiscal year 2022 (Japanese Yen)

| Item of account | 1st Jan.- 31st Dec. Total |
| --- | --- |
| [REVENUE] | - |
| Cash Donation | 81,300 |
| Donation Box/Museum | 195,166 |
| Donation Box/Terrace | 191,800 |
| Annual Donation | 6,437,462 |
| Open House Donation | 1,837,659 |
| Cemetery Plot: NEW | 0 |
| Cemetery Plot: RE-OPENING | 4,500,000 |
| Interest | 1,202,597 |
| Others | 0 |
| Revenue Total | 14,445,984 |
| [EXPENSES] | - |
| Electricity | 731,335 |
| Water | 68,474 |
| Gas | 127,779 |
| Communication | 296,880 |
| Gardening Work | 3,254,496 |
| Waste Disposal | 484,000 |
| Repair Expenses | 4,534,090 |
| Office Supplies | 703,080 |
| Insurance Premium | 1,228,290 |
| Fixed Asset Tax | 475,000 |
| Charge | 39,755 |
| Bank Charge | 85,746 |
| Consulting Fee | 649,000 |
| Salary | 9,384,000 |
| Bonus | 1,170,000 |
| Social Insurance | 1,555,317 |
| Open House | 430,594 |
| Depreciation | 2,498,592 |
| Other | 84,470 |
| Expense Total | 27,800,898 |
| Net | -13,354,914 |